We went camping in Big Sur over President's Day weekend. It was very cold and rainy on Saturday and it cleared up on Sunday and stayed clear on Monday, but it still stayed very chilly. There was even snow up on Nacimiento Road and up on the ridges near Big Sur.
We took Highway 1, which is a very pretty and scenic highway that basically runs on the edge of the California coastline. Driving along it makes you feel like you are on the edge of the world.
The first stop was in Cambria. We stopped the car and walked out to a lookout, but it started to hail on us, so we had to duck back to the car. A little further down the road, just past San Simeon (home of Hearst Castle), there was a vista point where you can get out to take a look at the
Northern Elephant Seals
, which come ashore there. There are dozens and dozens of cows with their calves and big males which are constantly fighting off the other bulls. It is a very noisy place (lol). But, again, it started to hail on us so we had to bid a quick retreat back to the car yet again.
Next, further down the way, we stopped at a trailhead to
Salmon Creek Falls
, which is a nice waterfall located near Gorda, CA. The trail was kinda of muddy due to the rain and there is poison oak growing in abundance, but the walk to the falls was totally worth it (and it wasn't a very long walk either). The rocks were very slippery and wet due to the rain so I didn't venture up to the top of the falls. There were a few rock climbers there, though, practicing on the slippery rocks.
The next stop was
Julia Pfeiffer-Burns State Park
. The park is located about 37 miles south of Carmel, CA on Highway 1. It is named after Julia Pfeiffer, a pioneer woman in Big Sur country. It is at this park where you can take the Overlook Trail to the oft-photographed McWay Waterfall ... the only waterfall on a beach in the western United States. It is truly a beautiful sight. There is also a magnificent view of the Big Sur coastline from the vantage point of the trail. There is a whole lot of poison oak...everywhere you look... so it is best to stay on the trails and don't touch anything green - lol.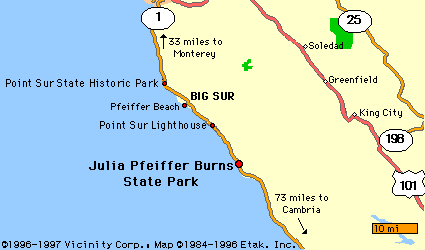 We also took a side trip up Nacimiento Road to see if we could see snow, as there was snow on top of some of the ridges. When we got up to the top of the road, there indeed was snow...quite a bit of it. And we also spotted some deer in the woods, and were treated to a snow show of our own. It started to flurry as we were driving up there.
After all the hiking and sight-seeing, we got to our final destination of the night,
Big Sur Cabins and Campground
. I was thankful we had a tent cabin as it was raining still and would continue to rain throughout the night. We went out after we had unpacked our stuff and had dinner and then came back. By this time, I was bushed and was ready to go to bed. I was also thankful that I brought my sleeping bag. Even though there was a bed with blankets, it was extremely cold and those blankets would have not been enough to keep me warm!
The next day, we got up and drove down to
Nepenthe Restaurant
and had breakfast. It was a little on the pricey side, but it was good! I had a breakfast burrito with some fresh salsa and sour cream and some hot cocoa. It was great! From the deck of the cafe, you can look out onto the Pacific Ocean and get a great view of the coastline. We also saw a lynx searching for food below and some whales cruising in the waters.
After breakfast, we drove down the coast to another restaurant, called
Rocky Point
. We didn't eat here, but we did get out and walked out to the rocks. There was lots of poison oak again. It was even growing among the ice plant. It was everywhere. But the view of the coast from here was beautiful.
Next, we drove down to
Point Lobos State Reserve
. It is located about 3 miles south of Carmel, CA. This was a place that my parents took me when I was a kid. There are tons of trails and tidepools that you can explore to your heart's content. We explored the tidepools for a long, long time, then we took the trail to Bird Island, which gave spectacular views of the coastline and beaches below. There is beach access to China Beach and Gibson Beach on this trail, and while we didn't venture down to the beaches, it appeared the people on the beaches were having a good time. Again, there is a lot of poison oak (a lot), so stay on the trails!
Next, we drove to Pacific Grove and Monterey, places I am very familiar with, as my family and I used to go there frequently when we lived in King City. We took a walk along
Lover's Point
, a popular diving spot. We spotted a few divers out in the water with their SCUBA gear. We also spotted a rainbow on the opposite shore, brought on by the rainy weather. Although it didn't rain on us on Sunday, there still were plenty of clouds in the sky.
After that, we decided it was time to drive back to camp. We did stop along the way to watch the sun set over the Pacific. It sure was cold though!
The next day, we packed up and headed to Carmel. After breakfast, we took the
17 Mile Drive
, which ends up at Pebble Beach, home of the famous Pebble Beach Golf Club. There are 22 marked points of interest on the drive, including the famous Lone Cypress, one of the most photographed trees in the world, and the famous Pebble Beach Golf Course. It is a beautiful drive and well-worth the $8.75 entrance fee.
All in all the trip was great, and it really helped me take my mind off of everything that has been going on. Just looking at the coastline and ocean and taking in a nice sunset is a great stress-reliever...the best, in fact.
Links:
17 Mile Drive
Julia Pfeiffer Burns State Park Trails
Guide to California's Big Sur
Big Sur Camping Guide
Point Lobos State Reserve